Introduction
The ongoing coronavirus crisis has confined people to the safety of their homes. To keep businesses running people have resorted to working from home. However, to bring out maximum productivity businesses must collaborate.
This has made video conferencing software a vital technology for both businesses and their employees. It has become a key component of how many businesses are continuing to function.
Other than the obvious, as the idea of lockdown is to eliminate social contacts, schools are not able to keep teaching, families, and friends cannot stay connected, and so many others.
This has led to a huge surge in adoption rates for video conferencing applications such as Microsoft Teams, Google Meets, or Zoom. These applications are bridging the customer's needs by leveraging visual communication as a collaboration feature.
In the recent few months, video conferencing sellers have seen a rise in user traffic. It is changing these tools to compete with one another and makes things difficult for buyers.
These video conferencing vendors have even adapted to freemium or special offers deployment to help entice new customers.
So let's take a look at how these three most popular video conferencing apps (Microsoft Teams vs Google Meet vs Zoom) works and their limitations.
Zoom vs Microsoft Teams vs Google Meet: Availability
Today, video conferences are not limited to just PCs and laptops. Zoom, Google Meet, and Microsoft Teams are all available for Android and iOS-based mobile devices.
However, both Microsoft teams and Google Meet can also be accessed directly through other search engines such as chrome or safari without any requirement for additional plugins.
You can also participate or schedule a meeting just by visiting its link on a browser. Zoom, on its part, doesn't allow users to host a meeting through a browser; nevertheless, you can still join a meeting.
Apps for Working Remotely From Home During Coronavirus
Zoom vs Microsoft Teams vs Google Meet: Meeting Time, Participants limit, and Media and Screen Sharing
Google Meet will be launching its free version in weeks to come while Zoom and Microsoft Teams already have free versions. However, freemium offerings of all the free versions of all three have some limitations.
The free version of Google Meet offers 60 minutes meeting limit along, however, with the ongoing crises users will be able to use Google Meet for meetings of unlimited length till 30 September.
It also provides screen sharing and recording capabilities, real-time captioning, and scheduling.
The free version of Microsoft Teams offers unlimited video and audio calls, chat messages, file and screen sharing, and a feature that lets you collaborate on Office documents.
Zoom, in its free version, provides a 40 minutes limit on group meetings. Both Google Meet and Zoom allow hosting meetings with up to 100 participants while Microsoft Teams allows more than 100. The two also enable real-time captions during the call.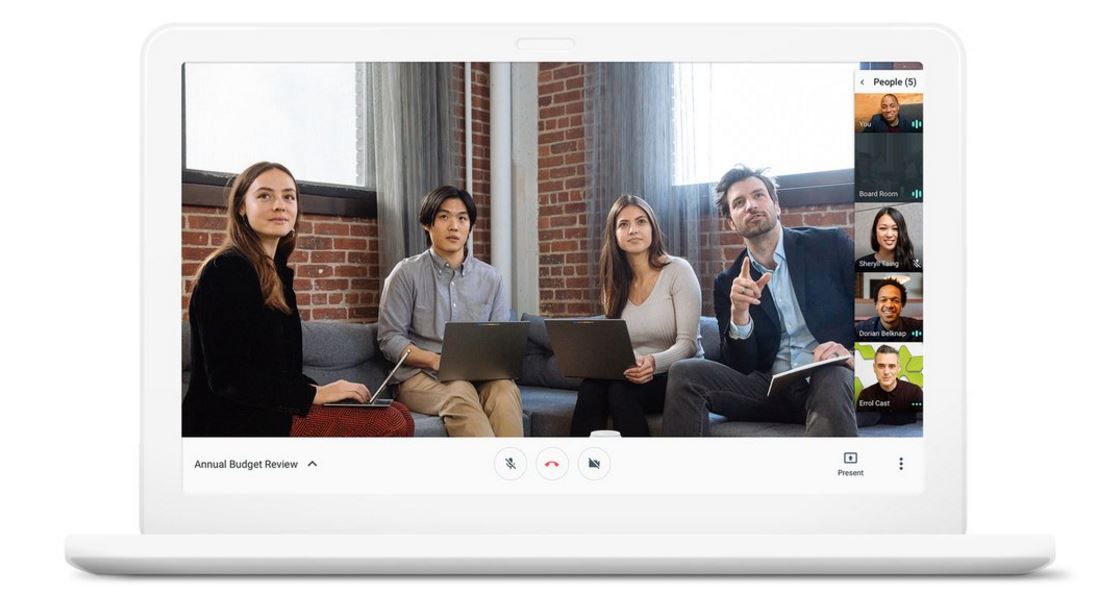 Image Credits: Data1.ibtimes
Zoom vs Microsoft Teams vs Google Meet: Security
Google Meet and Microsoft have a significantly better stand when it comes to security than Zoom. Zoom has lately been under the limelight for security-related concerns. It even released a new upgrade called Zoom 5.0 to address some of them.
Google Meet stands at the top when it comes to security as it supports multiple 2-step verification options. It also adheres to IETF security standards for Secure Real-time Transport Protocol (SRTP) and Datagram Transport Layer Security (DTLS).
Furthermore, Meet generates a unique encryption key for every meeting which is then transmitted in an encrypted and secured RPC. Similar to Google Meets, Microsoft Teams includes several layers of security including encrypting all meetings to help keep information safe.
It also offers packages that let you enable two-step authentication, making it harder for non-invited attendees to enter a meeting. In strong contrast, Zoom uses the AES 256-bit GCM encryption standard which was touted across all accounts from May 30.
Zoom vs Microsoft Teams vs Google Meet: Interface
Zoom is said to have truly excelled when it comes to user interface and experience. It is also popular for its Gallery view display that accommodates up to 49 participants on a single screen.
However, Google Meet has recently provided a similar interface by enabling an expanded tiled layout that shows up to 16 participants.
On the other hand, Microsoft Teams only offer a limited viewing capacity of 4 participants on-screen regardless of the number of people in the meeting.
Furthermore, recently, Google also added a low-light mode to adjust video based on lighting conditions which are limited to mobile users.
Microsoft Teams offers full Office 365 applications into Teams, which makes the full set of workstream collaboration offering a broader surface area of usage. We can conclude, Microsoft Teams offers a much better user interface.
Image Credits: dynamo6

Credit:- Microsoft.Teams 
Whitepaper Featured By LogMeIn – Conversational Geek: Office 365 Backup
Zoom vs Microsoft Teams vs Google Meet: Recording
Zoom allows users to record meetings in their free version which can be stored in the local system. On the other hand, Google Meet and Teams don't allow recording of virtual meetings on their free versions. However, in the case of paid users of both G-Suite Enterprise and Office 365 meetings can be recorded seamlessly.
In the case of Google Meet, the recording feature will be available for free users until September 30. But, this will be a Microsoft Teams video conference limit.
Microsoft Teams, Google Meet, and Zoom are both phenomenal applications when it comes to video and audio calling.
Conclusion
In this blog post, we have tried to compare all the features of these popular applications, however, selecting a perfect fit for your organization depends less on the best qualities and more on your business needs. 
We have tried to put forth the Microsoft teams video conference limit, Google meets limits, and Zooms too. In this time, collaboration has become more crucial than ever before and these tools are only helping us become closer than ever.
But, when it comes to choosing the right tools for you, the needs of your businesses will be beside which one is the best for you. 
Author Bio:
Shreeya Chourasia
is an experienced B2B marketing/tech content writer, who is diligently committed to growing your online presence. Her writing doesn't merely direct the audience to take action, rather it explains how to take action for promising outcomes.